Welcome... Spring 2022 Season

Spring 2022
1- We PRESUME Spring ball will happen this year
2- The League likely will be smaller for 2022
3- ALL divisions will be 16 teams, ie B1 [8] + B2 [8]
4- We will add teams above 128 [already there] in groups of 16
5- We have more team applications than 128, but not another 16 [as of Jan 3]
6- We NEED to set the Divisions by Feb 11, so we can get the schedule released by +/- end Feb.
7- To RESERVE your spot we require a NON-refundable deposit of $450 by Friday Jan 21. If the season is cancelled, your deposit will be returned
8- The remaining $1,000 MUST be paid by Friday Feb 7 . You can pay the full amount if you wish
9- EMAIL the [email protected] with your payment [cut and paste]
10- Security question answer TO BE : spring2022
11- MAKE sure to include your TEAM NAME in the message
12- We will ONLY accept payment from teams that are EMAILED this message. Anyone with an interest must apply online and will be notified as to availability
By admin
Jan 3, 2022
News
2022 Coach Admin
Please update you Contact info @ https://www.langleyslopitch.ca/coaches/index
Your temp password is:
spring2022
You can change this after the initial sign in
We're PRESUMING you're in for 2022. If this changes we can delete your team.
Fees for 2022 will be $1,450
By admin
Dec 9, 2021
News
SPN Coed Provincials - September 16 - 18 @ Langley
By admin
Dec 2, 2021
News
Online Applications Link [Spring] as of Dec 7/2021
To play in 2022, as we've refunded all teams in 2021, you MUST Apply online. Fees for 2022 will be $1,450.00. Look under the League Tab OR:

If your team name is on this list, we have received your application for Spring 2022. Please do NOT re apply:
tmName
Aces
Angry Jays Masters Baseball
Armed and Hammered
Around The Horn
Atkinson Landscaping
Average Joes
Ballwhackers
Bandito Supremo
Bases Loaded
Batstreet Boys
Bc rampage
Beavers
Benchwarmers
Benders
black knights
Blackouts
Bombers
BONGSHOW
Bottoms Up
Brew Crew
Brew Jays
Brewers
Brewsers
BULLDAWGZ
Bulldogz
Carnage
CHOICE
City Spark Plugs
Colts
Cowbells
Crazy Dutch Bastards
Destroyers
Diamond backs
Dirtbags
Dirty's
DOA
Dusters
Expos
F'n A's
Finest
Foul Balls
Fowl Balls
Generals
Grizzlies
HALF CORKED
HALFFAST
Hammered
Hard N Thru
Hit squad
Hitmen
Hosers
Hot Pockets
Hustlers
Indians
Inglorious Batters
Intubatters
JAFT
Just The Tip
Kaos
Killer bees
Kingsmen
Legends
Lightsout
LocknLoad
Los Diablos
Manglers
Mavericks
MC Slammers
Meat hooks
Mixed Nutz
MOJOS
Morning Wood
Mound Pounders
Multiple Scoregasms
Murder Hornets
Mustard Tigers
Nice Crack
NUCOR A's
Odd Sox
On Fire
One Hit Wonders
Pipe sharks
Pirates
Pitch Please
Pitch slappers
Pitches & Stitches
Pitt pirates
Purple Cobras
Ramrods
Regulators
Relentless
Roath loan rangers
Roll 2
Rude Awakening 2.0
Sailors
Sandlots
Second Chance
Show Ponies
Sick pups
Smack a pitch
Smoking Jay's
Sons of Pitches
Stealers
Steamers
Stellar?
Storm
Sweet Spot
T-Bags
Tailgaters
Tap That
TBA [Jason Ratzlaff]
Team Slam
The Cartel
Thunder
Toes
Tornados
Trash Pandas
TravisMathew Crew
Trojans
Tropics
Unathletics
Warriors
Watch This!
Whatever
Window Liquors
Wingmen
Worlds of difference
By admin
Oct 27, 2017
News
Tournament @ MAP Page
https://www.langleyslopitch.ca/tournaments/index
By admin
Aug 9, 2021
News
for iPhones / iOS
Convert the .csv schedule to .ics here:
https://manas.tungare.name/software/csv-to-ical/
By admin
Jul 25, 2021
News
For faster updates we will be posting on Telegram, under Langley Slo Pitch
https://telegram.org/
https://t.me/joinchat/Yp_gfbd4BUozMmI5
By admin
Jul 12, 2021
News
League FAQ
Are you looking for information about our league ? Do you want to play on a team or enter a team ?
By admin
Jan 8, 2012
News
SMS ALERTS
NEW FEATURE Sign up to our SMS Alerts. The will allow the League to text you Rain outs, Admin announcements. You can unsubscribe at any time. League can isolate texts to Teams, Divisions. Link can be found on the Home Page, below the myTeam Login.
http://fall.langleyslopitch.ca/smsusers/new
By admin
Jan 16, 2019
News
Offer from Store
The NEWLY opned Langley Liquor Warehouse is offering our League an opportunity to raise monies for our Bursary [Irene Loney Memorial].
We are NOT condoning any alcoholic consumption in any public park, but if you're going camping etc you may want to consider their offer.
The program is very simple. Mention Langley Mixed Slo-Pitch at the check out till and 5% of your total sale will be credited to the Langley Mixed Slo-Pitch account. All products are priced at or below government liquor store prices.
Langley Mixed Slo-Pitch members also have the opportunity to fill coolers with ice before any trips at no charge.
By admin
Apr 10, 2018
News
Rain Outs
BY DEFAULT All Games are a GO unless told otherwise.
Rain outs will be called by 5:00pm GAME day. The weather patterns change so we don't want to call too early, unless we see an Ark filled with animals floating by.
After 5:00pm the call will be MADE at the park, unless the weather gets so bad the 7:50 / 9:10 can not be played, then we will call.
When games are called, it will be posted on our Home page, a notice emailed to Coaches & Players [after rosters are imported from SPN] and sent out on Twitter. There is NO number to call.
By admin
Mar 26, 2018
News
Bats
ALL Bats this year must have the USSSA Thumb print. As attached. Any banned bats can be found on the SPN site.
FROM SPN 2019 Rule Book :
NOTE: All legal bats used in Slo-Pitch National will have the USSSA compliance mark located on the bat.
NON-APPROVED BATS: The batter is out and ejected from the game if he enters the batter's area with an illegal bat. In addition, the coach/manager is ejected as well.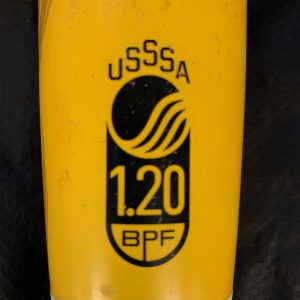 By admin
Jan 13, 2019
News
Portable Music Players
We may as well address this now. DO NOT have the music turned up so as to cause complaints from players / spectators / Township staff. We understand it's nice to have music in the back ground but having it set at "Club / Rave" levels is not fair or right. If this contuiues as an issue we will BAN portable music players and impose fines for anyone who brings one to the park. Your taste in music should STAY in YOUR dug out, Please adjust the volume accordingly.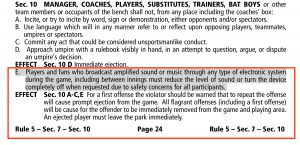 By admin
Apr 3, 2018
News
Brown Road
FROM "Terms of Understanding":
At Brown Road, when the last game is finished you are to leave the park, parking lot and street. NO staying late. After three warnings your team is kicked out of our league, This is your FIRST warning !
By admin
Jun 28, 2016
News
All Painted Fair/Foul Lines are
272' long. EACH and everyone.
MAP, BRN, DR, NB, MJS & RR. So a fenced field and NON-fenced field are the same.
By admin
May 30, 2017
News
SPN Forms
For Insurance, Injury/ Incident and Parental Consent forms . Click HERE
By admin
Mar 20, 2015
News
Recent GameScores
| | | | | | | |
| --- | --- | --- | --- | --- | --- | --- |
| Field | Diamond | Date | Time | Visitor | Home | Status |